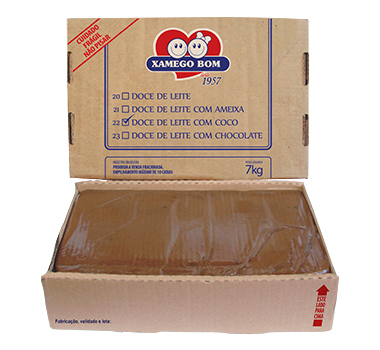 For those who are already passionate about the Dulce de Leche Xamego Bom, we present the same delight in the Dulce de Leche with Coconut in Box.
Applications:
Sweeties
Cakes
Candys
Breads
Pies
Milkshakes
Ingredients
Milk, sugar, corn glucose, coconut, corn starch, powdered milk, sour cream, salt, acidity regulator, sodium bicarbonate and conservative potassium sorbate.
Warnings / Allergens
CONTAINS MILK AND PRODUCTS.
CONTAINS LACTOSE. DOES NOT CONTAIN GLUTEN.
Packages
| Weight | Bar code EAN 13 | Bar code DUN 14 | Internal Code |
| --- | --- | --- | --- |
| Box  15,45lb | 7896310601388 | -- | 22 |
Main Markets
Supermarkets, emporiums, grocery stores, bakeries, patisseries and cafeterias.
How to use and Applications
The candy is now ready for consumption. It can be fractionated and sold in pieces and also shaped to make pies and sweets. For use in cafeterias, we suggest sweet shavings or shaped pieces to accompany the coffees.
Nutritional Information
Porção de 100g
Quantidade por porção
%VD
Valor Energético
384 kcal = 1613kJ
19%
Carboidratos
76g
25%
Proteínas
6g
8%
Gorduras Totais
6g
10%
Gorduras Saturadas
4g
18%
Gorduras Trans
0
-
Fibra Alimentar
0
0
Sódio
141mg
6%
(*) % Valores Diários com base em uma Dieta de 2.000 kcal ou 8400 kJ. Seus valores diários podem ser maiores ou menores dependendo de suas necessidades energéticas.
Shelf Life
Box 15,45lb: 6 months