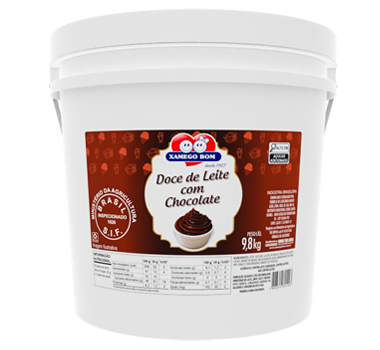 If it's hard to resist pure Dulce de Leche, imagine resisting Dulce de Leche with Chocolate. Two passions in one sweet.
Download product image in high definition:
Bowl 21,63lb
Applications:
Cakes
Churros
Cupcakes
Mousses
Breads
Puddings
Pies
Ice Creams
Candys
Ingredients
Milk, sugar, corn glucose, whey powder, cocoa, corn starch, acidity regulator sodium bicarbonate (INS 500ii) and preservative potassium sorbate (INS 202).
Warnings / Allergens
NÃO CONTÉM GLÚTEN.
CONTÉM LEITE E DERIVADOS. CONTÉM LACTOSE.
Packages
| Weight | Bar code EAN 13 | Bar code DUN 14 | Internal Code |
| --- | --- | --- | --- |
| Bowl 21,63lb | 789 63106 0120 3 | -- | 721 |
Main Markets
This is an ideal product for coffee and tea houses, hotels, restaurants, cafeterias, patisseries, supermarkets, grocery stores, buffet and party house.
How to use and Applications
The dosage is made according to your prescription. The product can be used as it is in the packaging or mixed with other products such as whipped cream, pasta and biscuits, cakes and fruits. It is an excellent product for the creative professional, as it is a ready-made mixture, it speeds up the preparation of recipes and gives flavor and quality to the products.
Nutritional Information
Serving per pack: 105 servings - Serving size: 20g (1 tbsp)
Por 100g (20g, %VD): Energetic value 308 kcal (62 kcal, 3%) • Carbohydrates 61g (12g, 4%), of which total sugars 52g (10g, -%), Added sugars 46g (9,1g, 18%) • Proteins 6,2g (1,2g, 2%) • Total fat 6,1g (1,2g, 2%), of which saturated fats 3,6g (0,7g, 4%) • Trans fats 0g (0g, 0%) • Food fibers 0,7g (0,1g, 0%) • Sodium 152mg (30mg, 2%).
*Percentage of daily values ​​provided by serving.
Shelf Life
Bowl 21,63lb: 9 months.