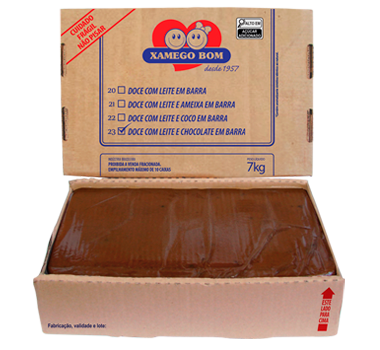 For those who are already passionate about the Dulce de Leche Xamego Bom, we present the same delight in the Dulce de Leche with Chocolate in Box.
Download product image in high definition:
Box 15,45lb
Applications:
Sweeties
Cakes
Candys
Breads
Cupcakes
Pies
Pizzas
Milkshakes
Ingredients
Milk, sugar, corn glucose, corn starch, cocoa, whole milk powder, conservative potassium sorbate (INS 202), acidity regulator sodium bicarbonate (INS 500ii) and synthetic flavor identical to the natural dulce de leche.
Warnings / Allergens
DOES NOT CONTAIN GLUTEN.
CONTAINS MILK AND PRODUCTS. CONTAINS LACTOSE.
Packages
| Weight | Bar code EAN 13 | Bar code DUN 14 | Internal Code |
| --- | --- | --- | --- |
| Box 15,45lb | 7896310601333 | -- | 23 |
Main Markets
Supermarkets, emporiums, grocery stores, bakeries, patisseries and cafeterias.
How to use and Applications
The candy is now ready for consumption. It can be fractionated and sold in pieces and also shaped to make pies and sweets. For use in cafeterias, we suggest sweet shavings or shaped pieces to accompany the coffees.
Nutritional Information
Serving per pack: 350 servings - Serving size: 20g (1 tbsp)
Por 100g (20g, %VD): Energetic value 357 kcal (71 kcal, 4%) • Carbohydrates 80g (16g, 5%), of which total sugars 71g (14g, -%), Added sugars 66g (13g, 26%) • Proteins 3,9g (0,8g, 2%) • Total fat 3,4g (0,7g, 1%), of which saturated fats 2g (0,4g, 2%) • Trans fats 0g (0g, 0%) • Food fibers 0,6g (0,1g, 0%) • Sodium 72mg (14mg, 1%).
*Percentage of daily values ​​provided by serving.
Shelf Life
Box: 6 months.