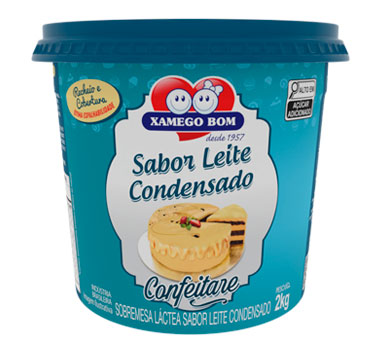 Sweet Condensed Milk Confeitare for professionals, ideal for fillings and toppings.
Download product image in high definition:
Bowl 4,41lb
Applications:
Cakes
Candys
Churros
Cocktails
Cupcakes
Mousses
Breads
Puddings
Pies
Ice Creams
Ingredients
Milk, sugar, corn glucose, whole milk powder, whey powder, corn starch, salt (sodium chloride), citrus pectin stabilizer (INS 440), preservative potassium sorbate (INS 202), acidity regulator sodium citrate (INS 331iii) and aroma identical to the natural condensed milk.
Warnings / Allergens
CONTAINS MILK AND PRODUCTS.
CONTAINS LACTOSE. DOES NOT CONTAIN GLUTEN.
Packages
| Weight | Bar code EAN 13 | Bar code DUN 14 | Internal Code |
| --- | --- | --- | --- |
| Bowl 4,41lb | 7896310601678 | 17896310601675 | 715 |
Main Markets
Bakeries, patisseries, coffee and tea houses, hotels, restaurants, cafeterias, supermarkets and grocery stores, buffets and party houses.
How to use and Applications
The Xamego Bom dairy desserts are ideal for fillings and toppings, as they speed up the preparation of recipes and add flavor and quality to products.
Nutritional Information
Serving per pack: 100 servings - Serving size: 20g (1 tbsp)
Por 100g (20g, %VD): Energetic value 282 kcal (56 kcal, 3%) • Carbohydrates 57g (11g, 4%), of which total sugars 52g (10g, -%), Added sugars 46g (9,2g, 18%) • Proteins 4,8g (1g, 2%) • Total fat 4,4g (0,9g, 1%), of which saturated fats 2,5g (0,5g, 3%) • Trans fats 0g (0g, 0%) • Food fibers 0g (0g, 0%) • Sodium 98mg (20mg, 1%).
*Percentage of daily values ​​provided by serving.
Shelf Life
Bown 4,41lb: 9 months.