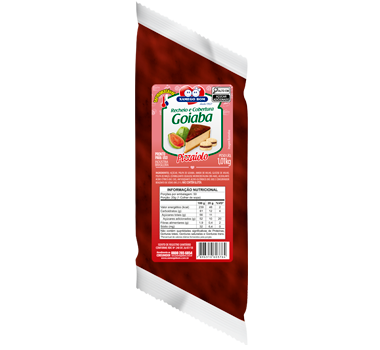 Guava Topping and Filling ready to use! Ideal flavor, shine and consistency to make your recipes irresistible! And the best: It is a thermostable product! Another new from Xamego Bom for you!
Download product image in high definition:
Bag 2,22lb
Applications:
Pizzas
Cakes
Breads
Roulades
Pies
Cupcakes
Churros
Ingredients
Sugar, guava pulp, corn starch, corn glucose, apple pulp, stabilizing microcrystalline cellulose (INS 460i), acidulant citric acid (INS 330), antioxidant ascorbic acid (INS 300) and preservative sodium benzoate (INS 211) .
Warnings / Allergens
DOES NOT CONTAIN GLUTEN.
Packages
| Weight | Bar code EAN 13 | Bar code DUN 14 | Internal Code |
| --- | --- | --- | --- |
| Bag 2,22lb | 7896310603764 | 27896310603768 | 1043 |
Main Markets
End consumer, retail, bakeries, confectioneries, coffee and tea houses, hotels, restaurants and cafeterias, supermarkets and grocery stores, buffets and a party house.
How to use and Applications
Dosing is done according to your recipe. Ready to use, it provides economy and high performance, giving a special touch to your recipes. The product can be used as it is on the packaging.
Nutritional Information
Serving per pack: 20 servings - Serving size: 20g (1 tbsp)
Por 100g (20g, %VD): Energetic value 239 kcal (48 kcal, 2%) • Carbohydrates 61g (12g, 4%), of which total sugars 56g (11g, -%), Added sugars 52g (10g, 20%) • Food fibers 1,9g (0,4g, 2%) • Sodium 32mg (6,4mg, 0%).
Does not contain significant amounts of Proteins, Total Fats, Saturated Fats and Trans Fats.
*Percentage of daily values ​​provided by serving.
Shelf Life
Bag 2,22lb: 1 year.