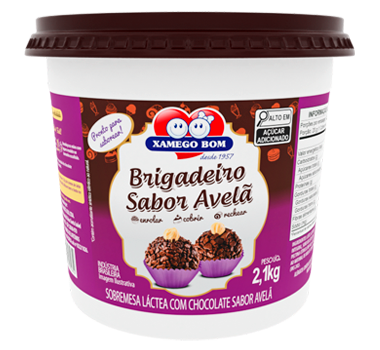 The success of Xamego Bom Feast Line Well, now it has another strong member that will be successful with all palates: Chocolate Truffle with Hazelnut! Make amazing and tasty sweets and recipes with this perfect product!
Download product image in high resolution:
Bowl 4,41lb
Applications:
Sweeties
Cakes
Candys
Cupcakes
Breads
Pies
Milkshakes
Ingredients
Milk, sugar, corn glucose, whole milk powder, whey powder, cocoa powder, citrus pectin stabilizer (INS 440), corn starch, artificial flavor identical to natural hazelnut and preservative potassium sorbate (INS 202).
Warnings / Allergens
CONTAINS MILK AND PRODUCTS.
CONTAINS LACTOSE. DOES NOT CONTAIN GLUTEN.
Packages
| Weight | Bar code EAN 13 | Bar code DUN 14 | Código |
| --- | --- | --- | --- |
| Bowl 4,41lb | 7896310650850 | 17896310650857 | 1070 |
Main Markets
Bakeries, patisseries, coffee and tea houses, hotels, restaurants and cafeterias, supermarkets and grocery stores, buffets and a party house.
How to use and Applications
Dosing is done according to your recipe. The product can be used as it is on the packaging or mixed with other products such as whipped cream, pasta and cookies, cakes and fruits. It is an excellent product for the professional who has creativity, because it is a ready mix, it speeds up the preparation of recipes and gives flavor and quality to the products.
Nutritional Information
Serving per pack: 105 servings - Serving size: 20g (1 tbsp)
Por 100g (20g, %VD): Energetic value 296 kcal (59 kcal, 3%) • Carbohydrates 59g (12g, 4%), of which total sugars 53g (11g, -%), Added sugars 47g (9,3g, 19%) • Proteins 5,4g (1,1g, 2%) • Total fat 4,8g (1g, 2%), of which saturated fats 2,8g (0,6g, 3%) • Trans fats 0g (0g, 0%) • Food fibers 0,9g (0,2g, 1%) • Sodium 111mg (22mg, 1%).
*Percentage of daily values ​​provided by serving.
Shelf Life
Bowl 4,41lb: 1 year.