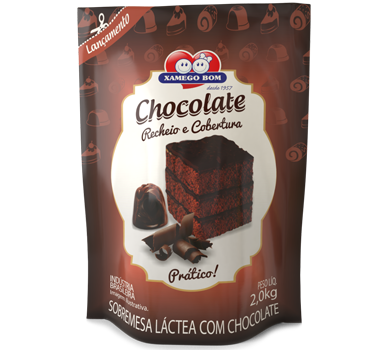 Delicious product, specially developed to be used as a filling and topping, the dairy dessert with chocolate can also be mixed with other ingredients to create various recipes or even enjoy a spoon.
Download product image in high definition:
Pouch 7,08oz
Pouch 4,41lb
Applications:
Cakes
Candys
Churros
Cocktails
Cupcakes
Mousses
Breads
Puddings
Pies
Ice Creams
Ingredients
Milk, sugar, corn glucose, whole milk powder, whey powder, cocoa, corn starch, citrus pectin stabilizer (INS 440), conservative potassium sorbate (INS 202), sodium citrate acidity regulator (INS 331iii).
Warnings / Allergens
CONTAINS MILK AND PRODUCTS.
CONTAINS LACTOSE. DOES NOT CONTAIN GLUTEN.
Packages
| Weight | Bar code EAN 13 | Bar code DUN 14 | Internal code |
| --- | --- | --- | --- |
| Pouch 7,04oz | 7896310600251 | 17896310600258 | 993 |
| Pouch 4,41lb | 7896310601180 | 17896310601187 | 1012 |
Main Markets
End consumer, retail, bakeries, confectioneries, coffee and tea houses, hotels, restaurants and cafeterias, supermarkets and grocery stores, buffets and a party house.
How to use and Applications
Dosing is done according to your recipe. Practical, provides economy and high performance, with a homemade flavor that gives a special touch to your recipes. The product can be used as it is on the packaging, tasted with a spoon or can be mixed with other ingredients, such as whipped cream, pasta and cookies, cakes and fruits.
Nutritional Information
Portion of 20g – 1 tablespoon
Amount per serving
%VD
Energetic value
53 kcal = 223kJ
3%
Carbohydrates
11g
4%
Proteins
0,8g
1%
Total fat
0,7g
1%
Saturated fat
0,2g
1%
Trans fats
0
-
Dietary Fiber
0
0
Sodium
24mg
1%
(*) % Daily Values ​​based on a 2,000 kcal or 8400 kJ diet. Your daily values ​​may be higher or lower depending on your energy needs.
Shelf Life
Pouch 7,04oz: 1 year.
Pouch 4,41lb: 1 year.